Welcome to Void Launcher
Void Launcher is a launcher, designed for new and upcoming Indie developers to share their games with reviewers and Indie game lovers!

---
As a game developer, specifically an indie game developer - it can be difficult to get your game out to people. Other platforms such as Steam, can cost you a lot of money, that as a small team or individual, you just cannot afford. However, with Void Launcher, you can share your free games - at no cost! If you want to sell your game for a price, it will cost you only a fraction of what other services will charge you. Read below for more information!
FAQ.
Can I make profit from my games?
No, not at the moment. We are currently working on developing Void Launcher - currently only free games can be listed.
If you do want to earn money, it will cost you the amount the game is selling for. For example, selling a $10 game will cost you a one-time $10 fee to Void Studios - this is nothing compared to Steam's $100 fee. The rest of the profits earned will go to you. If your game is FREE, then you can list your game on Void Launcher at no cost!
How do I list my game?
If you want to list your game, please contact us at voidstudios.contact@gmail.com (this email will change soon). We are more than happy to take any free game listings right now. However, if you would like to make a profit (paid-listing), we cannot currently offer this, as we are still developing Void Launcher.
Powered by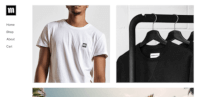 Create your own unique website with customizable templates.